Achieve the perfect smile without disrupting your daily routing.
We're here to help you choose the right treatment option to meet your needs.
INVISALIGN®
Dr. Hulse is a certified Invisalign® Premier Provider in Carlsbad, CA.
Invisalign® has become an exceedingly popular orthodontic treatment option because it's a virtually invisible way to move teeth—much different from other types of braces. But most importantly, as a treatment tool in the hands of an experienced orthodontic specialist like Dr. Hulse, patients can achieve the great smile they desire.
Dr. Hulse uses advanced 3D computer-imaging technology to craft complete treatment plans from the initial position of your teeth to the final desired position. It's one of the most popular treatment options at Hulse Orthodontics for many reasons:
They're removable: Unlike braces, you have the flexibility to eat and drink what you want during treatment simply by removing the aligners. You can also remove the aligners to brush and floss as you normally would.
They're clear: Invisalign aligners are practically clear. People may not even notice that you're in them, making them a seamless fit with your lifestyle and day-to-day interactions with others.
No metal: There are no metal brackets or wires with the Invisalign system that could cause irritation to your mouth. Additionally, since your office visits don't involve metal or wire adjustments, you'll likely spend less time in the doctor's chair!
See virtual results: Invisalign allows you to view your virtual results and treatment plan before you start, so you get a firsthand look at what your new smile will look like once your treatment is complete!
How Invisalign Works
Invisalign works by using a series of clear aligners that are custom-made for your teeth—and your unique facial aesthetics—to move them little by little. Each aligner is worn for about two weeks before being replaced by the next one in the series, until the final position of your teeth is achieved. Total treatment time averages nine to 15 months and the average number of aligners worn during treatment is between 18 and 30, but both will vary from case to case.
INVISALIGN TEEN®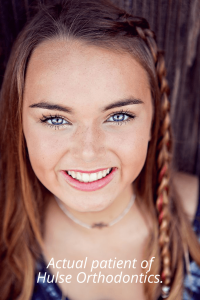 Dr. Hulse is a certified Invisalign Teen® Premier Provider in Carlsbad, CA.
If you're not thrilled with the idea of visible types of braces, Invisalign Teen aligners give you a whole new way to achieve a "clearly" amazing smile!
We totally get it. You have plenty of concerns and don't want to stress over braces. Lacrosse season? No problem. Homecoming next month? Don't fret it. What about yearbook pictures?! You've got this; during your Invisalign Teen treatment you won't need to turn down any dates, cover your mouth when you laugh, or hide out in your room for two years! Invisalign Teen aligners are built for your lifestyle, because aligners are:
Clear
Removable
Super comfortable
Customized just for you
A great smile without food limitations!
If you've had friends in braces, you've probably heard them bemoan the fact that they "can't eat anything." While that's not really the case, it's true that foods like popcorn, apples, and hard candy are a big no-no for those in other types of braces. But with Invisalign Teen aligners, you can eat whatever you want!
Because Invisalign Teen aligners are removable, you can enjoy the foods you love without worrying about breaking a wire, dislodging a bracket, or losing a rubber band. Woohoo!
Get a great smile YOUR WAY!
Invisalign aligners are super comfortable and highly durable. They are built to not hinder your lifestyle. So whether you're riding barrels in the California surf, throwing a baseball towards home plate, or playing the trumpet with the school band, you won't have to struggle to make orthodontic care fit into your life.
American Orthodontics
Metal Twin Braces
Go ahead and smile, you're getting braces!
Braces are the primary "tool" that orthodontists use to engineer great smiles. And as you can surmise, there are a great many brands and styles of these braces available to Dr. Hulse. Accordingly, he continually seeks the bracket system that allow him to craft the most beautiful smiles in the most comfortable, quickest way possible. And as technology advances, so too does Dr. Hulse evaluate the decision of how best to care for his patients.
Dr. Hulse uses American Orthodontics Metal Twin braces to ensure that you'll be proud to smile both during and after your treatment! They allow him to straighten your teeth quickly and in the best way possible. Their unique design means a smaller, more comfortable bracket. And the wide range of color choices for the little bands holding your wire in place means you can even have a little fun and show off your braces with pride. So go ahead and smile!
And the wide range of color choices for the little bands holding your wire in place, you have the freedom to add your personal touch! So express yourself while in braces! Flash some holiday colors. Show your school spirit! Go wild and let your true colors show! The options are endless! Remember, you and Dr. Hulse are both working towards the same goal – your ideal smile! Just as you trust your orthodontist to straighten your teeth, they are trusting Metal Twin braces to help him do it right. And comfortably! That's something to smile about.
3M Clarity Clear Ceramic Braces
Clear braces that will change your mind about clear braces!
At Hulse Orthodontics, we're always looking for ways to give our patients more confidence, more comfort, and more opportunity to smile! So we're pleased to offer the 3M Clarity Clear Braces System to our patients for whom treatment aesthetics is a primary concern. Clarity braces provide an advanced, nearly invisible alternative to traditional metal braces, allowing you to smile more during orthodontic treatment!
Clarity braces by Dr. Hulse are a safe, effective, and comfortable way to achieve the results that you desire. You'll experience the benefits of a straighter smile with greater transparency than with traditional metal braces. And the ceramic material from which they're made and coated in rhodium will not stain or discolor over time, very much a technological advancement from the clear braces of years ago.
Clarity braces are a treatment option that will be offered during your complimentary consultation with Dr. Hulse. They are a treatment choice you can feel good about, featuring the latest technology so that they work fast and look great.
Clarity Braces at a glance:
Durable, translucent ceramic brackets
Smooth, molded, comfortable edges for less discomfort and irritation
An open design to help you maintain good oral hygiene during treatment
Each bracket is designed to fit your tooth and help move your teeth into place quickly.